Help & FAQ
1.What payment methods do you support?
If you have a PayPal account, you can simply put in your PayPal account and procceed. If not, you can still pay with PayPal using your credit or deibt card.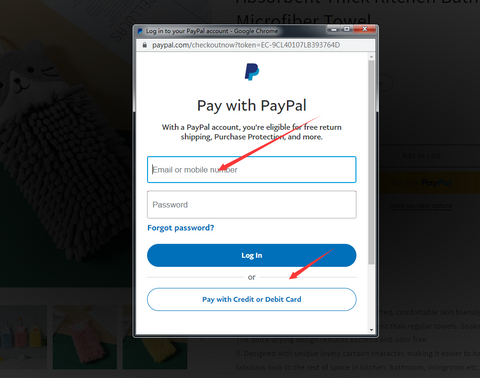 2. How long does the delivery take?
All orders are shipped from our warehouse within 2 business days of the order being placed. With standard shipping, shipments will arrive within 10-15 to the US and 7-12 business days to the EU. With expedited shipping, it will only take about 3-5 business days to arrive to the most part of the world. Should you have any questions on shipping, feel free to chat with us online or send emails to our customer service joanna@lilkit.com. We apologize if the shipment requires customs clearance inspection or if there are delays in shipping due to courier services.
3. What is your return and exchange policy?
Please see our return policy page.
Our customer service is open 24/7. We will respond to your inquiry as soon as possible.
4. Do I need to have an account to order products?
No, you can also place an order as a guest. However, there are some benefits if you have an account with us.
① Quick checkout process
② Easily view your order status and order history
③ Receive updates on our newly released products and special promotions
5. How do I pay via PayPal?
PayPal is the easiest way to pay online. Once you have finished adding items to your cart and are ready to complete the transaction, you can click on the "PayPal" button. You will be redirected to the PayPal website. Please make sure to fill in the correct details for fast and hassle-free payment processing.
6. What if my order is missing or I received the incorrect product?
For missing or incorrect products, please contact us at
joanna@lilkit.com
. Please indicate your order number and provide us with proof (image file size should be less than 1MB). We will resend you the correct product, you do not need to send us the original package.
7. To which countries can your goods be shipped?
Currently, we ship worldwide. However, if your country may not be supported by our logistics, we will notify you immediately and make the necessary changes to your order. To learn more about our list of destinations, please contact us at
joanna@lilkit.com
.
8. How to change my product or shipping address?
You may modify your order on or before 11:00 PM (Pacific Daylight Time, GMT -7) on the day you place your order. You may request changes by contacting us at
joanna@lilkit.com
.
9. Are there any exchange rate issues?
All of our transactions are based on U.S. dollars. If your credit card is denominated in another currency, the total amount of your order will be calculated at the daily exchange rate on the date your card issuer processes the transaction.At present, our store supports six types of currencies:USD,GBP,EUR,CAD,AUD and JPY. You can choose to switch at the upper right corner of the store website. Other types of currencies are not supported at the moment, please understand.
10. I've forgotten my password - what should I do?
On the login page, click the "Forgot Your Password" link and we will send you instructions to reset your password via email.
11. How do I know my order has been successfully submitted?
You will receive a confirmation email with the order number and details of your purchase.
12.I've seen a product on TikTok that I want to buy, but I can't find it in the shop?
First of all, not all products in the video will be listed in the shop. If you have a product you are interested in, you can send the link of the product video or the screenshot of the product to the Customer Service, so that the Customer Service can help you find the corresponding product. We will help you solve such problems in time.
13.Where can I check the logistics information of my products? Why can't I find out my logistics information?
Firstly, you need to make sure that you have successfully placed an order. How to judge whether you have successfully placed an order? Please see Article 11. After placing a successful order, you will receive your order number and logistics information can be queried in the tracking number of the store. In general, after placing an order in the short term can not find the logistics situation is normal. Store delivery takes time and you need to wait patiently. If you urgently want to know your logistics information , you can contact Customer Service who will answer for you and help you track your order in real time.
14.What should I do if I find that I have filled in my personal information incorrectly or my order is wrong?
Please contact Customer Service in time or contact us at
joanna@lilkit.com
, we will help you change it from the background.
15.What if I don't know what to buy myself or can't find the item I want?
Please contact Customer Service to tell your needs, the Customer will recommend and find the goods you need for you.
16.About the clothing size problem
You can first refer to the size chart in the picture of the clothing product. If you are still not sure, please contact Customer Service to tell your height and weight, etc. . Customer Service will recommend suitable clothes size for you according to your size.
17.Do you have any other contact details?
If you feel the web page and email information is cumbersome, our Whatsapp number is +8615995027801, you can more conveniently contact us to pay attention to your order.
18.How much is the freight cost?
Freight is included in the price of our goods. You don't need to pay extra freight.
19.About the shop discount
Every customer who buys goods in our store for the first time can enjoy a 95 % discount . If you become a regular customer, we will contact you by email during festive events or discount promotions.

20. Is my personal information confidential?
Any information you share with us is private and confidential. We will never share or sell your personal information without your consent, unless required by law. Please see our Privacy Policy page.